Adventures in mosaic
Chopard is one of the few names in the world that has equal prominence and credibility in the worlds of jewellery and horology. Blending the two into high jewellery watches, Chopard dedicated a new line to the highest echelon of gems and gears in its Imperiale collection in 2015, celebrating the magic and intrigue of Byzantine royal courts with the Coffret de l'Impératrice. For its second piece (released late last year), it retains the royal connection but moves across the Atlantic to the majesty of South American kingdoms, in particular the artforms of the Mayan, Aztec and Incan civilisations.
Though separated by thousands of miles, these Pre-Columbine civilisations shared a common aesthetic of mosaic decorations. They weren't the originators, of course, but they were equal to the royal artisans of Rome and Persia. Using mainly turquoise shards applied to a wooden base, they created ceremonial masks, historical chronicles and divine depictions, including priceless artefacts like the double-headed Aztec serpent at the British museum. It is this custom that Chopard co-opts for this secret watch.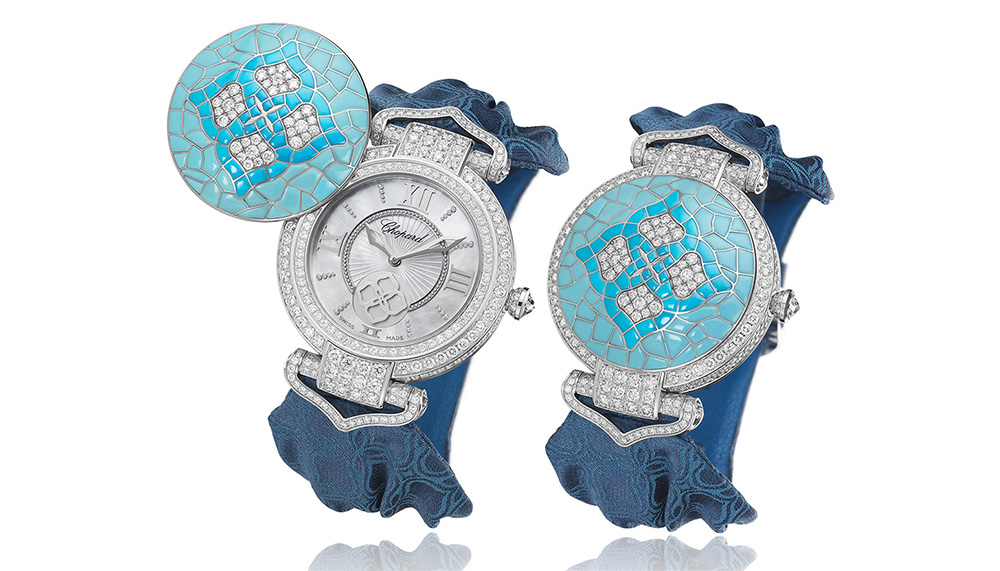 At first glance, the Chopard Imperiale Joaillerie timepiece appears as a magnificent bracelet, with a dial cover set with turquoise slivers depicting the signature Chopard Imperiale bloom surrounded by brilliant-cut diamonds. Strap choices are either blue/turquoise damask or turquoise alligator leather, extending the hypnotic palette of blues. Open the dial cover, and the sheen of diamonds and fairmined white gold almost overpowers, with the Imperiale flower motif repeated and a guilloché sunburst in the centre that nods to the Pre-Columbine worship of the sun. Powering the timepiece is the self-winding LUC 96.12-L movement, with a 65-hour power reserve. The unique 38mm piece is priced at US$162,790 (S$229,275), while also serving as a template for bespoke pieces.
---