cut and dry

Who wouldn't enjoy a soak after a long work week? We know we would, for sure. Add a glass of red by our sides and we're well on our way to celebrating the arrival of the weekend. And our choice of tub for the week? The Bijoux bathtub, created by Kelly Hoppen and Apaiser.
Kelly Hoppen has succeeded in breaking from plug-and-play dictates with her new Bijoux bath collection (prices upon request) for Australian company Apaiser. The three-piece debut gives us those textured, modern feels while working just enough shadow into each form so that the end result is a sculpted, highly considered design that doesn't look like a maiden voyage with a 3D printer.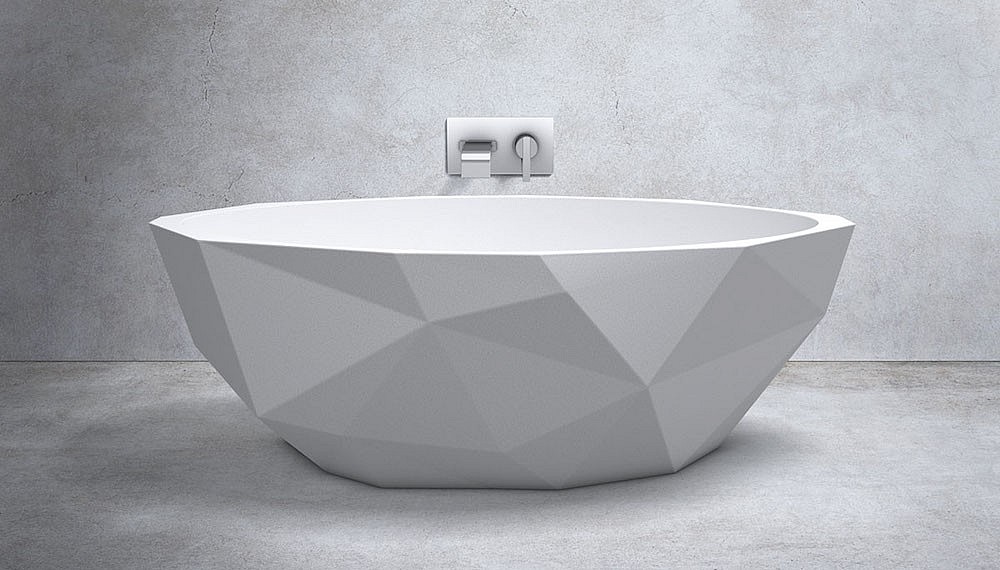 Inspired by the diamond creation process, the internationally sought-after interior designer developed a bathtub, basin, and integrated basin for her second collection with the brand. Bijoux is crafted from "apaisermarble," the company's proprietary material derived from real marble, and bears Hoppen's signature luxury touch: a contrast of rawness and refinement that wins favour in town and country residences across continents. With Bijoux, Hoppen creates the ultimate physical expression of that look with angled exteriors and smooth interiors for each piece. She also triumphs on an aesthetic high-wire, creating a bathroom suite that knows where design ends and vanity begins.
---