noble dwelling at The costaguti estate

In Rome, the same noble family has owned Costaguti Palace since the 16th century. But now the modern-day Costagutis — descendants of powerful bankers and the 17th-century treasurers to Pope Paul V — have given their family estate a new license. The Costaguti Experience reimagines the space as an exclusive-use booking that pairs heritage with haute design.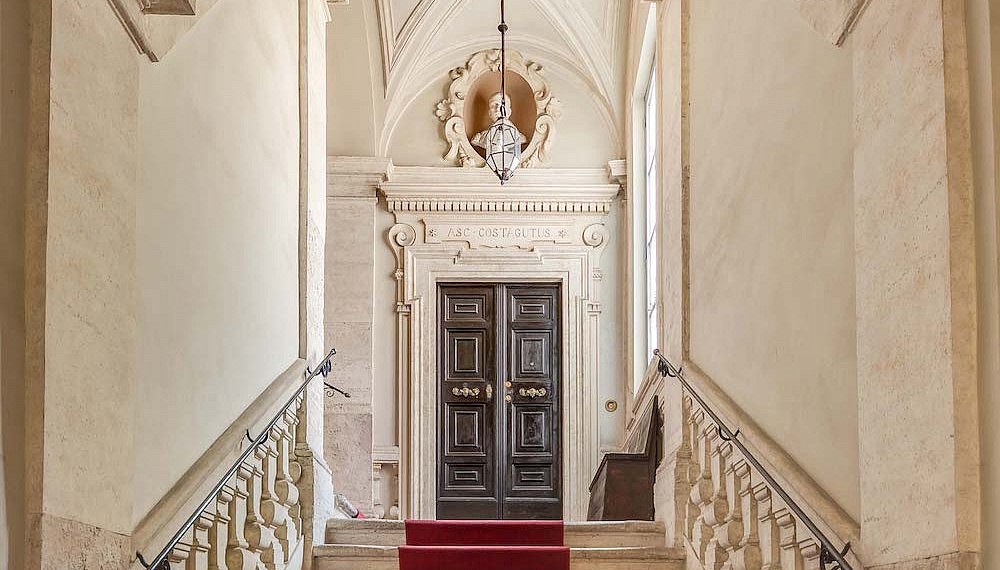 The five-bedroom, 3,200-sqft residence is glamorously set in the heart of Rome's historic Rione XI Sant'Angelo between Campo de' Fiori and the Colosseum.
The high-ceilinged living room offers a perfect example of this style, lined with a brilliant 16th-century fresco by Renaissance painters Taddeo and Federico Zuccari. On the ground, architects elevate the original terra-cotta floors with plush, contemporary furnishings upholstered in saturated purple and pink velour alongside nimble, brassy tables and stools. The result is a striking contrast that offers just the right amount of pizzazz for a 16th-century palazzo.
The bedrooms accommodate up to 14 guests and are all outfitted with playful textures and shades. The most indulgent room pockets a private sauna, while the most modest is adorned with a 16th-century mural worthy of a museum.
The Costaguti Palace mixes Renaissance-era frescoes…

… with more contemporary art and design

Living like how Italian nobility would
Modern artwork from local Roman artists and students to coexist with the palazzo's original frescos and baroque architecture. In the billiard room, vaulted, gilded ceilings are crowned with a 17th-century work by Cavalier d'Arpino — Caravaggio's master teacher — while a vintage pool table commands the floor.
A fully equipped kitchen has been given a modern update — though it need not be used. The residence's 24-hour concierge service can arrange extra indulgences, from private chefs and personalised groceries to yoga and pilates lessons.
Although the Costagutis can't lend you their name, at least for the night, you can now borrow their address.
---