Quiet time
One of the undoubted keystones for resort brand Aman is its unique reverence for recreating that genuine feeling of home. Last year it launched Aman Tokyo, one of the brand's few city offerings – the other being Aman Venice – in a portfolio that comprises mainly resorts situated in idyllic settings. In this dense, bustling metropolis of approximately 13.5 million inhabitants, Aman Tokyo references omotenashi, the art of Japanese hospitality practised in many of its traditional guesthouses.
Aman Tokyo's difference however, is its melding of modern comforts with traditional Japanese aesthetics. Under the creative vision of Kerry Hill, the hotel's interior becomes an unhurried oasis. The first intimation of this happens as you step out of the elevator and into the lobby with a ceiling that's a soaring 27m high. Here, ash floors and basalt walls meet filtered light pouring through washi paper screens. This interplay of light and materials is accented by a giant reflecting pool and ikebana, reverberating with an ethereal calm.
A plethora of artworks adorn the hotel. At the elevator lobby, a stuccoed wall entitled Winter Flowers is masterfully executed by plaster artist Shuhei Hasado. The artist depicts a shower of falling petals. In his own words, he describes the falling petal – moments before it touches the ground – as a high example of beauty in nature.

This Zen-like understanding of peace and comfort is evident throughout the property from its 84 rooms and suites (room rates start at ¥90,000, RM3,600) to its dining areas, spa and heated rooftop pool of black basalt. The latter, at 30m in length, is quite possibly the longest pool atop a building. Here, one may lounge on daybeds and work in some laps amid the skyscrapers of the Chiyoda district.
The hotel rooms are similarly an exercise in restraint, with a serene ambience borne of natural materials. Spacious window seats provide glorious views and a real feeling of space. Deep-soaking tubs ubiquitous of ryokans – also known as furo – are installed in every guest bathroom to provide that sense of tradition, as do the bath tools carved from Japanese cypress. The top-of-the-line Aman Suite offers 157sqm of living space and a panoramic observation of the nearby Imperial Palace Gardens.
The same lush greenery unfolds beneath diners at The Restaurant by Aman. The auditory mood here veers from oriental-tinged instrumental music in the mornings to strains of jazzy exotica in the evenings, against the illuminated backdrop of frenetic Shinjuku on the horizon. On a clear, cloudless day, you may be treated to the breathtaking Mt Fuji.
Dinner here is a masterful union of European and Japanese culinary influences. Chef Eiji Ohata serves sterling courses of bottarga-topped toro, rabbit impanato, Mediterranean grouper with clams, fennel and artichoke as well as a decadent grilled Yamagata beef sirloin, which you may pair with vintages from a cellar boasting over 1,200 labels. After dinner, the Lounge by Aman is the perfect place to wind down over long cocktails. The adjacent Fumoir offers a tantalising array of cigars, a private bottle locker and a stratospheric ambience.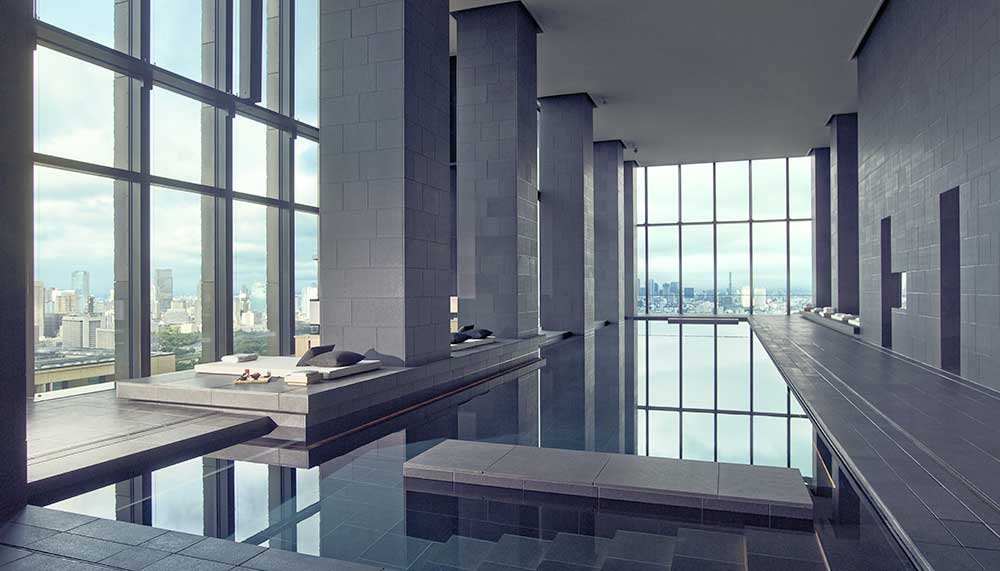 Guests should not miss a visit to Aman Spa. Possibly the most comprehensive hotel spa in the city, Aman Tokyo has fashioned 2,500sqm of space across two floors as a haven of relaxation and rejuvenation. Japanese-style public baths, fitness centres and a yoga studio complement the superlative spa menu of chemical-free products and a deep understanding of wellness.
Under the practised hands of the masseuse, the treatments quickly soothe and refresh. An Aman Tokyo Signature Journey begins with a full body scrub of fine camphor, Kuromoji powder and Japanese clay to stimulate circulation and remove toxins. This is followed by a 90-minute body massage of shiatsu and Western techniques for undeniable relaxation.
The entirety of the Aman Tokyo experience is clearly one designed to bring some soulful – perhaps even spiritual – benefits. An unobtrusive and always delightful level of service, coupled with the exquisite home-like spirit of its ambience, means that one is never under pressure to be anything other than fully contented and relaxed.
---